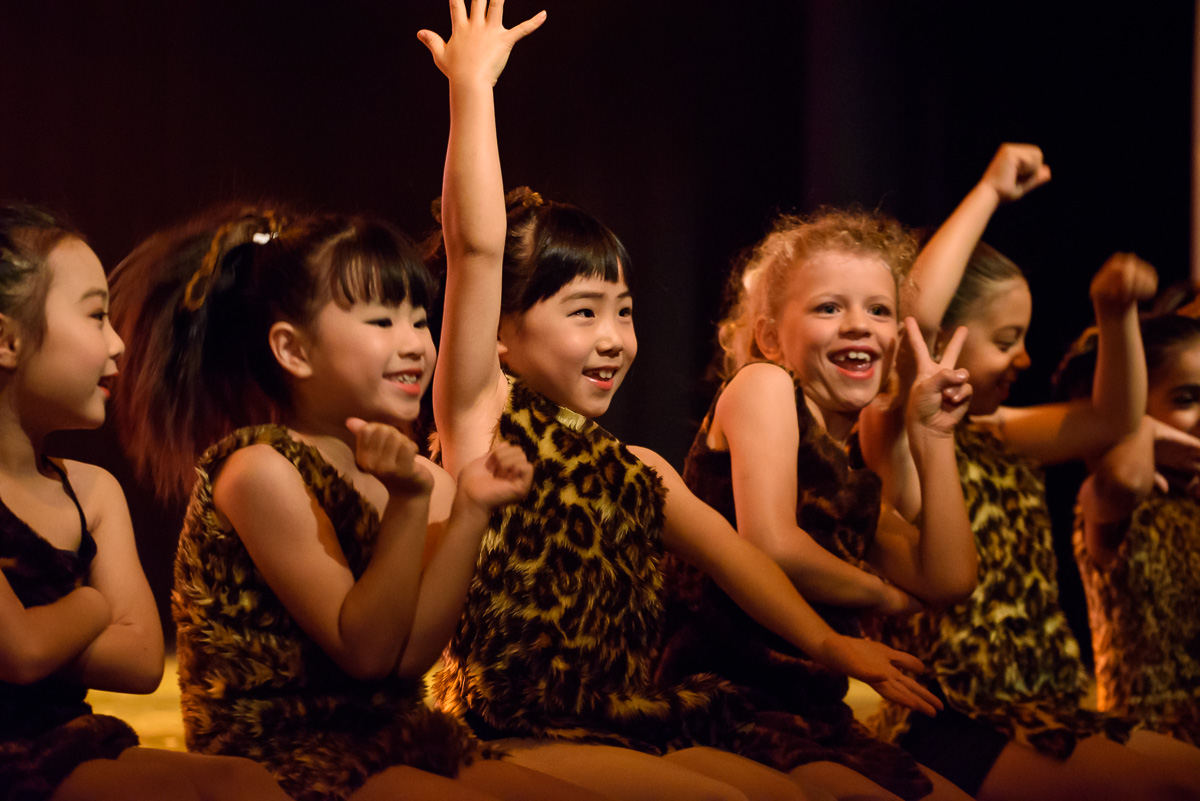 Fun, excitement as you anticipate class each week, the learning of new skills in the performing arts and skills for navigating everyday life! Exercise, new friendships, joy and an ignited passion!
We'll be your second family, kind & friendly and super encouraging. We endeavour to nurture not just your skills but your friendships as well.
What if I've never taken a class before?
Excellent, you're right where you need to be! That's exactly WHY Dance Sensation exists – to learn, and we all have a great starting story, we'd love to be a part of yours!
You can find out a bit more about each style we offer here.
Take a look at our helpful dress guidelines for 2 to 12yrs and Teens & Adults here.
We also have awesome Dance Sensation t-shirts, singlets and hoodies available for purchase at our Lane Cove and Ermington Studios.
Our Ready Set Dance & Ready Set Ballet classes for 2-5yr olds have their own very special uniform which can be purchased at your first class at our Lane Cove and Ermington Studios. (Girl's Tutu leotards = $45; Boy's T-shirts = $25)
What times are your classes on?
Monday to Saturday during School term, check out our full timetable for each location here.
Lane Cove North, Ermington & Lindfield East – click here for studio addresses and detailed maps
Every location has ample FREE street parking.
What ages do you cater for?
We start from the adorable age of 2 right up to our amazing adults of all ages.
Do you have boys classes?
Oh yeah we sure do! Boys are welcome in all of our co-ed classes and we also have a BOYS ONLY Hip Hop/Breakdance class. Dance Sensation currently caters to a lot of male students so come and join in the fun!
I'm an Adult student – where do I start?
We recommend new adult students start off in a Beginner class and see how the pace suits them. There is always room to move to Intermediate/Advanced if you've had prior experience and need a higher technical challenge. Our Adult classes are encouraging and fun and we love to have a good laugh!
Can I book a Private Lesson first to get my courage up?
Sure we'll have you feeling the courage of Superman or Wonder Woman (or somewhere near to that) by starting with a one on one private lesson first. Some students do prefer to have an introductory private lesson before they join a class, this can definitely help their confidence and make the transition into a group class a breeze. Where possible we will try to book your Private with the teacher of the class you are aiming to attend so you can get to know each other.
Private lessons can also be booked as a reoccurring weekly class for you.
Do you perform and compete throughout the year?
Yes we have specialist Performance Groups that perform for fun and also compete against other dance studio's at Eisteddfods. Student's must submit an application and have completed a Funky Jazz/Hip Hop level to be accepted into these classes.
Any students wishing to compete solo or duo can book private lessons.
Tell me about your end of year concert?
My pleasure, as this is one of our major events and is the highlight of the year for many students and parents. Exciting costumes, professional theatre, annual awards, all presented in a relaxed family friendly atmosphere. With so many different styles and ages represented at Dance Sensation there is something for every audience member to enjoy, a brilliant time is had by all.
Find out about all our exciting yearly events here!
What happens if I miss a class?
Term fees are calculated at a very reasonable price with the understanding that you are paying upfront for a FULL term. This enables us to employ the teacher, book the location, and have all necessary insurances & licences in place. Therefore we cannot provide refunds for missed classes or change of mind.
If the student has had a severe medical emergency and is unfit to attend their usual class for 3+ consecutive weeks please contact us, we will usually credit fees to a following term.
This sounds awesome, how do I enrol?
Easy, follow this link
Create an account with your email and a new password
Enter your details
Create a new student (This is the person you are enrolling in a class)
You will be given a list of the classes that apply to the student's age group – select the class you'd like to enrol in
Sign up for auto-pay on the home page of your account
Come along and get grooving! We will send you an email with more information once you're signed up.
SaveSave